Tissue-Tek® Staining Solution Series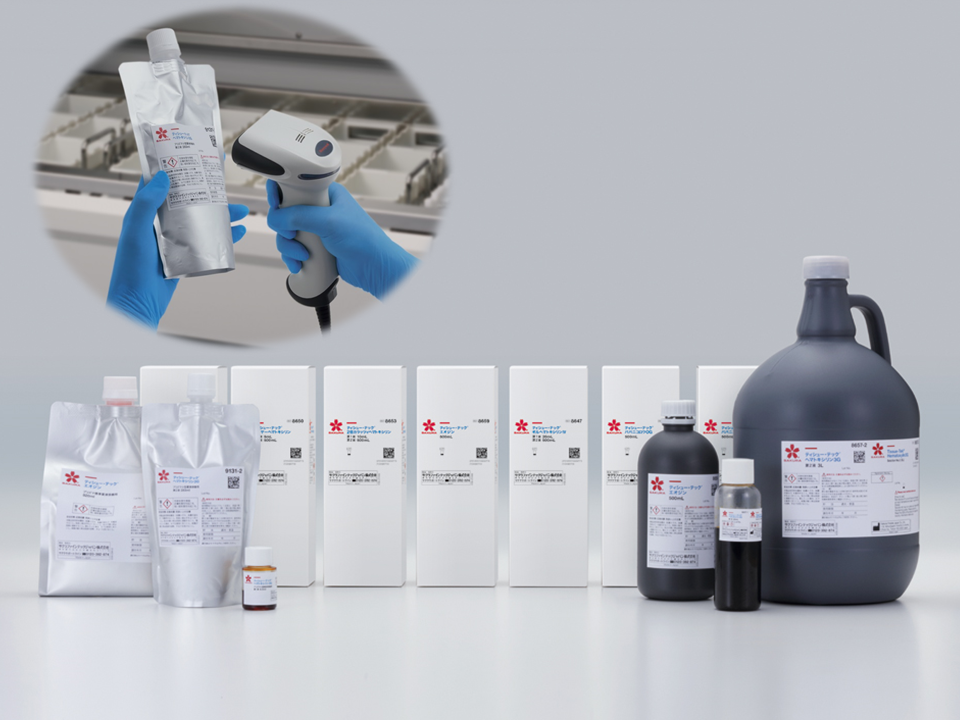 Product
Specifications
Options
Sakura Staining Technology for Clear and Consistent Staining
Stable quality
Tissue-Tek staining solutions, manufactured using selected, high-quality stains and reagents under strict lot control, produce clear and consistent staining. Hematoxylin two-solution mixture system allows you to set any date as a mixing & preparation day of staining solution.
Contributing to accuracy management
Prisma package products clearly show you when the reagents need to be changed, which helps achieve stable staining performance.
Can be used to ensure traceability of stained results
The stain process report now includes reagent management information by barcode.
Prisma Package Products
4 each
・Tissue-Tek Hematoxylin 3G For Prisma standard solution reservoir
(Solution 1 24 mL Solution 2 800 mL)
・Tissue-Tek Hematoxylin 3G For Prisma small solution reservoir
(Solution 1 8.5 mL Solution 2 283 mL)
・Tissue-Tek Eosin For Prisma standard solution reservoir
(820 mL)
・Tissue-Tek Eosin For Prisma small solution reservoir
(285 mL)
・Tissue-Tek Mayer Hematoxylin For Prisma standard solution reservoir
(Solution 1 8.3 mL Solution 2 815 mL)
・Tissue-Tek Mayer Hematoxylin For Prisma small solution reservoir
(Solution 1 2.9 mL Solution 2 284 mL)
General Package Products
1 each
・Tissue-Tek Hematoxylin 3G
(Solution 1 15 mL Solution2 500 mL)
(Solution 1 90 mL Solution 2 3 L)
・Tissue-Tek Mayer Hematoxylin
(Solution 1 5 mL Solution 2 500 mL)
・Tissue-Tek Carazzi Hematoxylin Double Concentration
(Solution 1 10 mL Solution 2 500 mL)
・Tissue-Tek Eosin
(500 mL)
(3 L)
・Tissue-Tek Gill's Hematoxylin IV
(Solution 1 20 mL Solution 2 500 mL)
(Solution 1 120 mL Solution 2 3 L)
・Tissue-Tek Papanicolaou OG
(500 mL)
(3 L)
・Tissue-Tek Papanicolaou EA
(500 mL)
(3 L)
Related Links