Histo-Tek® VP1
Vacuum Infiltration Processor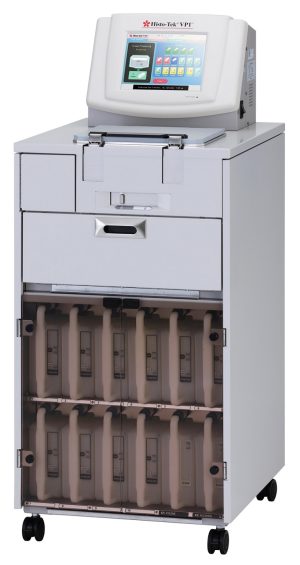 Product
Specifications
Options
Safe, More Reliable Tissue Processing
Color Touch Panel
Navigating the color screen is easy allowing to monitor the system operation.
High Capacity
Load up to 300 cassettes enabling future growth.
Improved Infiltration
Up to 14 steps providing high quality infiltration from tiny biopsies to large surgical tissues.
Specimen Safety
Specimens stay in the enclosed retort during the entire process.
Workflow Efficiency
The convenient baskets organize the cassettes for easy identification, processing and transfer to embedding.
Environment Safety
The enclosed system and the activated carbon filters protect users from toxic fumes.
Product description

Vacuum Infiltration Processor
Product name

Histo-Tek VP1
Dimensions

552(W)×604(D)×1328(H)mm
*Height to the retort:1033mm
Weight

Approximately 130kg
Rated power supply

・115VAC 50/60Hz 15A
・220-240VAC 50/60Hz 10A
Related Links