Tissue-Tek VIP® 6 AI
Vacuum Infiltration Processor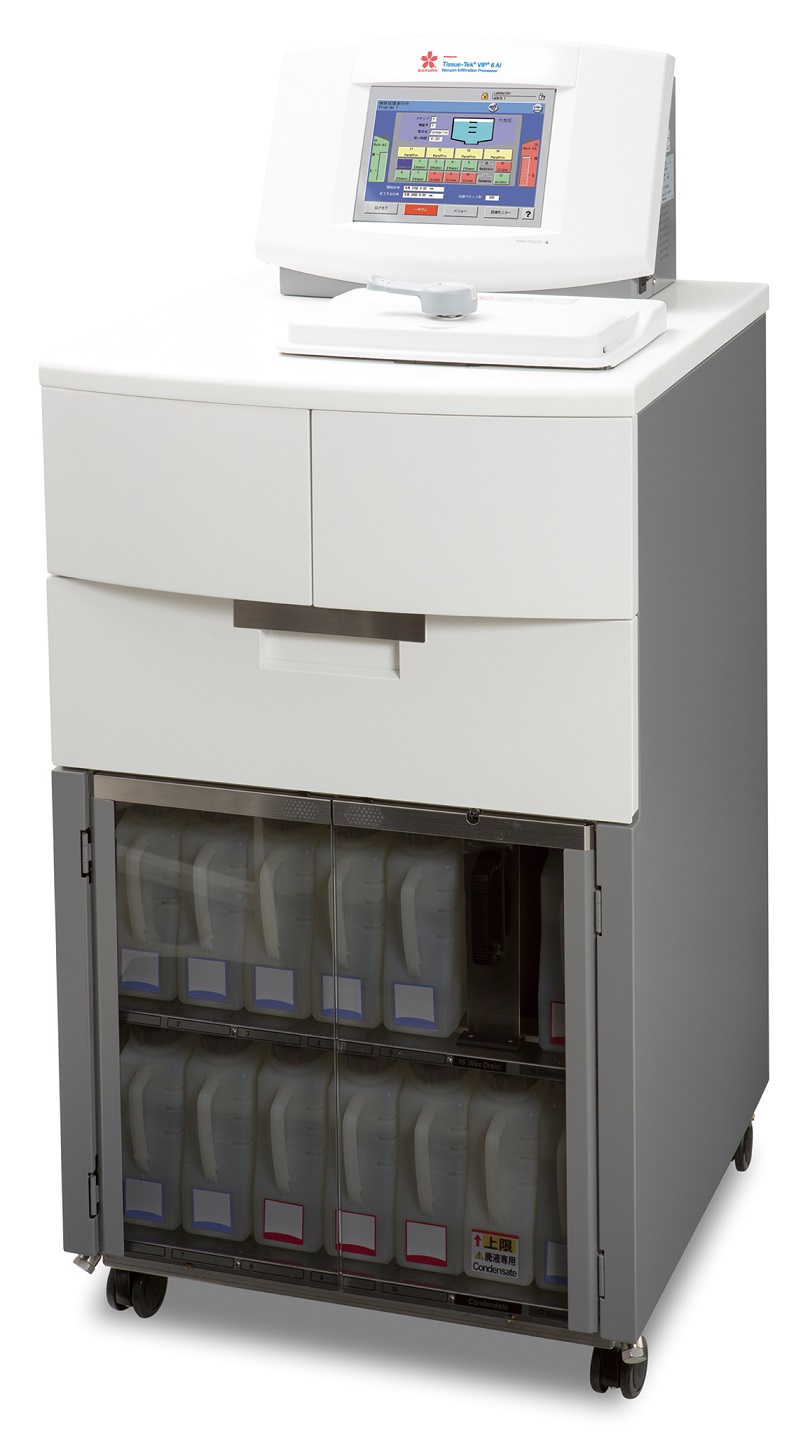 Product
Specifications
Options
Confidence in Gold Standard Technology
The first choice in tissue processing now with advanced infiltration
Advanced Infiltration
・10 user-selectable reagent agitation modes offer effective yet gentle agitation for enhanced infiltration.
・Onboard mixing of alcohol and xylene from the bulk reservoirs yields superb processing of fatty tissues.
・Up to 50 user-defined programs enable comprehensive tissue processing for all tissue types.
Tissue Safety
・The Solution Manager safeguards tissues during operation for safe and worry-free processing.
・The 2 bulk reservoirs provide fresh reagent (if needed during process) to eliminate under-fills.
・An automatic bottle check prevents issues BEFORE they happen by verifying reagent bottle connections prior to the start.
Reliability
・A mean time between repairs of > 52 weeks leads the industry in reliability.
・New Tissue-Tek iSupport* allows remote monitoring of errors to increase instrument uptime.
・A newly designed manifold utilizes two reagent sensors to even further enhance reliability.
* Please contact Sakura local distributor or Sakura Finetek Japan for more information.
Convenience
・Automatic Transfer allows for in-process solution rotation to significantly save time.
・An LED-lit reagent cabinet enables quick visual observation of solution levels.
・Automatic rotation of paraffin into the paraffin waste container saves time and prevents spills.
Product description

Vacuum Infiltration Processor
Product name

Tissue-Tek VIP 6 AI
Dimensions

606(W)×675(D)×1329(H)mm
*Height to the retort:1043mm
Weight

Approximately 175㎏
Rated power supply

・115VAC 50/60Hz 12A
・230VAC 50/60Hz 6A
Related Links